EGStoltzfus Unveils Latest Homes for Hope Project
Posted: 9/7/18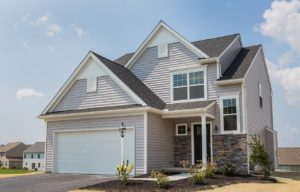 EGStoltzfus and our trade partners recently celebrated the ribbon cutting of our latest Homes for Hope project at Barons Ridge in Manheim. 

Homes for Hope supports the work of HOPE International. Headquartered in Lancaster, HOPE International is a Christian faith-based nonprofit organization that is focused on alleviating global poverty via microenterprise development.
Through the Homes for Hope initiative, HOPE International partners with builders and their trade partners to construct residential homes here in the U.S. and Canada. Much of the time and material that goes into building the home is donated, maximizing the profit of the home.
Once the home is sold, net proceeds are donated to support the Homes for Hope mission.
"Building a home for HOPE International and the Homes for Hope initiative is something we look forward to every time we have the opportunity to participate. Thanks to the generous contributions of our many trade partners, we can help fight global poverty by working together at a local level," shared Andy Dula, COO/CFO for EGStoltzfus.
This is the 10th Homes for Hope project for EGStoltzfus and partners. Together, we have sent proceeds of more than $1 million to HOPE International.
Thanks to the following organizations for their participation in our Homes for Hope project at Barons Ridge:
Adams Drywall |American/Hungerford Building Products | B&B Custom Trim | Baron Sweitzer | Bill's Framing | Century Spouting | CK King | Fireside Hearth & Home | Good Painting | Todd Gosnell Paving | GR Mitchell | Indoor City | JG Graybill Plumbing | Longenecker's | Morrison Excavating | Mountain Masonry | Quality Stone Veneer | R&L Siding | Ressler & Mateer | Ritner Steel | Shank Door | JC Snavely & Sons | Swartz Kitchens & Baths | Thomas Somerville | Vintage Group | Weaver Excavating | Weaver Precast | Zook Concrete
Click here to see the home or stop by Barons Ridge in Manheim for a personal tour. 
For more information about Homes for Hope, click here.
Homes for Hope at Barons Ridge
694 Hamaker Road, Manheim
Open Sat & Sun 12-5 PM
Can't visit? Email or call 717-537-6968 to speak with our online sales specialist.