EGStoltzfus Named #1 Home Builder by LNP Readers
Posted: 8/30/17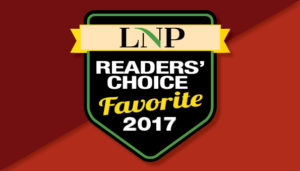 EGStoltzfus Homes was voted the #1 Home Builder in Lancaster County in the 2017 Readers' Choice Awards, presented by LNP. The Readers' Choice Awards are published annually by LNP and highlight favorite Lancaster County businesses, as voted on by readers.
This year's voting took place in May and June. EGStoltzfus' award fell under the Home & Garden category. Other categories that readers could vote on included Apparel, Auto, Bridal, Education, Financial, Food & Beverage, Health & Beauty, Kids, Leisure, Medical, Miscellaneous, Pets, and Shopping.
Thanks to all LNP readers who voted, and congratulations to all the winning local businesses!
Click here to view a digital copy of the Readers' Choice Awards roundup which appeared in the Sunday, August 27th LNP News.