Join EGStoltzfus at the Holiday Homes on Parade
Posted: 11/20/17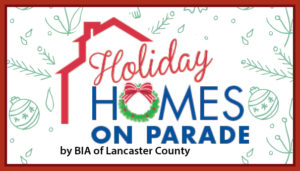 EGStoltzfus is excited to be part of the 2017 Holiday Homes on Parade, sponsored by the Building Industry Association (BIA) of Lancaster County.
This is the first year for the event, which showcases 9 newly built and remodeled homes in Lancaster County, each decorated for the holiday season. The public is invited to tour the homes and be inspired by unique displays of home design, décor and detail.
Two homes in our Landis Farm community in East Hempfield Township are featured on the parade, as well as the newest Farmstead model home at Homestead Village, an enhanced senior living community in East Hempfield. EGStoltzfus is the builder for the Farmstead, which is Homestead Village's newest expansion featuring 98 carriage homes.
Holiday Homes on Parade is Friday, December 1st (5-8PM) and Saturday, December 2nd (2-8PM). Tickets are $15 per person (children under 13 are free) and proceeds benefit The Salvation Army Coats for Kids.
For more information, directions, and to purchase tickets, visit HolidayHomesOnParade.com