EGStoltzfus Celebrates 55 Years of Building One Story at a Time
Posted: 9/28/23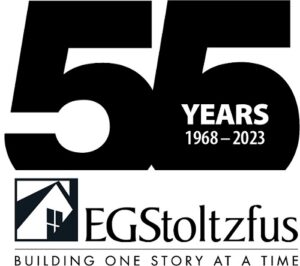 September 2023 marks the 55th anniversary of EGStoltzfus.
Over the past several decades, our company has grown from a small custom homebuilding business into one of the region's most respected and reputable construction partners for new home construction, custom homes and remodeling, and commercial construction.
Humble Beginnings
Our founder, Elam G. Stoltzfus, worked as a remodeler out of his garage and a small barn in Lancaster County. One day, his cousin and her husband asked E.G. to build them a house.
With his own hands and the help of a 15-year-old Amish boy, E.G. built his first custom home. He was asked to build another, then another. Soon, EGStoltzfus was born.
A Legacy Built on Relationships
From day one, E.G. focused on cultivating close, personal relationships with everyone he worked with – from his clients to his colleagues and trade partners.
Today, as EGStoltzfus celebrates another business milestone, our employees are as passionate as ever about keeping E.G.'s legacy and customer-centric philosophy alive with every space we design, build, and remodel.
Committed to Serving Southcentral PA and Beyond
Our Neighborhood Homes and Custom Homes & Remodeling divisions are proud to serve the southcentral PA region as a trusted local partner that's invested in improving the lives of those who live here.
We're currently building in 9 Neighborhood Homes communities throughout Lancaster, York, and Cumberland Counties. We also have 3 Custom Homes neighborhoods underway in Lancaster County, with more local projects in the planning stages.
Our Commercial Construction division proudly serves Pennsylvania as well as Maryland and Delaware. We have many new and exciting projects in the works for this growing division.
It's simple. We know this area, we live here too, and we've spent decades fostering strong local connections and personal relationships that allow us to deliver quality construction with a level of integrity we feel is unmatched in this region.
Looking Ahead
As we look back and celebrate 55 years of Building One Story at a Time, we're also excited for the future.
Among many key strategic initiatives, our second generation of family leadership is carefully planning for the next generation of team members to one day carry the torch that E.G. lit back in 1968.
In the meantime, we want to send a heartfelt thanks to our clients, trade partners, employees, and the many communities and institutions we've had the privilege to serve over the years.
Thanks for being part of our story!