Now is the Perfect Time to Build at Parkside!
Posted: 4/24/23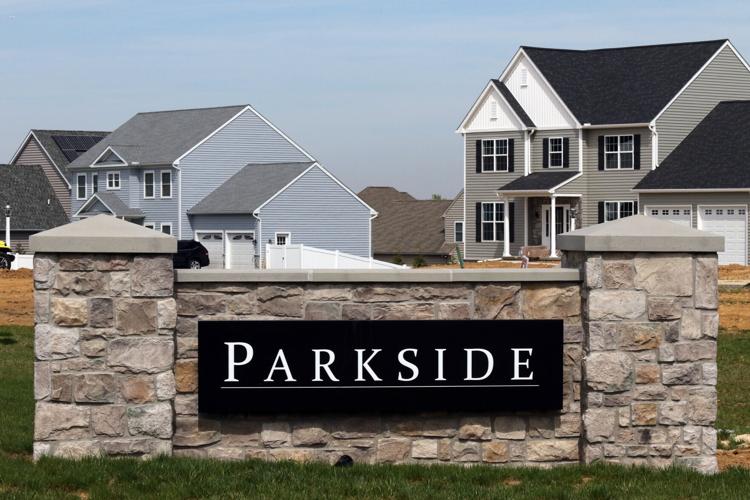 The following article was published in LancasterOnline on 4/23/23:
Even with this year's higher interest rates, resale home inventory remains tight in Lancaster County, meaning buyers can still encounter plenty of competition when a nice home comes on the market in an attractive neighborhood.
It's no surprise then that many buyers are gravitating toward new construction and the appeal of building the exact home they want without the fear of unexpected, costly repairs that might come with a resale home.
That's one of the many reasons EGStoltzfus has been keeping busy in Parkside, one of its newest Lancaster County neighborhoods. While it's conveniently located off Route 722/Petersburg Road in Manheim Township, Parkside is also a peaceful community tucked away from the hustle and bustle.
For buyers looking for a home that perfectly fits their tastes and lifestyle, Parkside offers an extensive portfolio of 16 floor plans, including options with first-floor owner's suites, single-story living, and the new 2-story Ridley — a 2,398-square-foot open floor plan featuring four bedrooms, 2.5 baths, a large family room and eating area off the kitchen, a walk-in pantry and a first-floor laundry room. In response to market feedback, EGStoltzfus is now also offering a highly desired two-story family room option in its popular Essington floor plan.
With only six homesites remaining in Phase 1, now is the perfect time to buy in Parkside and get what is likely to be the best pricing in 2023, before the opening of Phase 2. Prices start in the low $500s, and EGStoltzfus is currently offering $45,000 in savings for a limited time. Conditions apply.
Of the six homesites remaining in Phase 1, all sit on a quarter acre or larger and one offers a daylight walkout basement.
Buyers at Parkside not only choose just the right floor plan for their lifestyle, but they also work closely with the team at the EGStoltzfus Design Studio in Manheim Township to complete their home with design features that reflect their personal tastes.
Rob and Katrina Krasinski chose a Brentwood Classic floor plan and moved into their new home in March. They call life at Parkside "a dream come true."
"From the start to finish, the New Home Consultant and Design team were amazing and knowledgeable, which made every step of the building process stress-free," the Krasinskis said. "EGStoltzfus has perfected its timeline for new construction and we moved into our forever home on the exact day quoted. We are making the best memories in this home!"
If you're simply wondering what your new EGStoltzfus home in Parkside could look like, register to attend an open house at the Design Studio. The events are held every Wednesday from 5-7 p.m. so the public can check out the latest curated selection of design features available exclusively for those building an EGStoltzfus home.
Parkside will have a total of 115 homes when complete.
For buyers who prefer the highest level of customization that comes with the design-build experience, opportunities are available right next door at The Reserve at Parkside, the EGStoltzfus Custom Homes neighborhood adjacent to Parkside. Offering some of the few remaining custom-build sites in Manheim Township, The Reserve allows buyers to start with a blank slate, bring their own plan, or take some inspiration from the ever-evolving EGStoltzfus portfolio of Signature Custom Home plans.
The Reserve at Parkside is entering its final phase, with homes starting in the upper $700s.
Located in Manheim Township School District, Parkside and The Reserve at Parkside offer easy access to routes 501, 30 and 283. The neighborhood is a short commute to Lancaster city, Lititz and Manheim and under 45 minutes from York, Reading, Harrisburg and Hershey. It's also just minutes from UPMC Lititz Hospital, Lancaster Airport, Overlook Golf Course, Universal Athletic Club and dining and shopping at Richmond Square, the Shoppes at Kissel Village and the Shoppes at Belmont.
Closer to home, Parkside offers a pedestrian connection to Manheim Township Community Park, which features a walking path, pavilions, athletic fields, a picnic area and playground.
To learn more about Parkside, visit the model home at 333 Amber Drive, Lititz. A stop on last year's Parade of Homes tour, the model features The Essington floor plan, one of the largest EGStoltzfus offers. Open house hours are 11 a.m. to 4 p.m. Wednesdays and 2 to 5 p.m. Saturdays.
For more information on any EGStoltzfus neighborhood, contact Leslie Rhinier, New Home Consultant, at 717-537-6968 or online.